Reduced to Clear was an innovative idea by founder & CEO Sean Hills. In 2008, after working for many years in the food industry and seeing how much food was going to waste in NZ and around the world, he decided something needed to be done.
Reduced to Clear's first shop started in Manukau, Auckland back in 2008 intending to minimise food wastage. By taking surplus or clearance stock from suppliers, importers and manufacturers and selling it at heavily discounted prices to the public, it was a WIN-WIN for all. It helps reduce unnecessary food wastage and also helps shoppers save lots of money on their favourite food brands each week.
Reduced to Clear is a different type of food outlet as it carries all kinds of bargains from frozen product, yoghurts & cheeses, to chocolate and drinks, cereals to general merchandise. You never know what kind of bargains you'll find in the store as new stock arrives daily. You will however soon find out that you'll save a huge amount of money with most items up to 50-80% off normal RRP.
Reduced to Clear gets over 2 Million customers a year visiting one of their 11 stores in the North Island. If you haven't shopped at an RTC store before you don't know what your missing.
Click here to find the nearest store.
Save More, Waste Less.
By shopping at RTC you can sleep easy at night knowing you're helping reduce food waste and having a positive environmental impact. You'll also know you're saving loads of money each week on your shopping bill.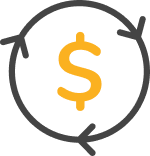 Shop with us first and save.
Reduced to Clear is dedicated to helping New Zealand families stretch their grocery budgets further. Shop with us for essentials like milk and bread as well as an ever-changing range of meat, dairy, cleaning products and other household items. Most of our clearance products are up to 50-80% off normal RRP.

Big Brands, Low Prices, Every Day.
We stock big brands at hugely reduced prices across our 11 stores around the North Island, and there's always something new in store.